Disney Guides
How to Easily Pack for Disney World | Sweet Home Vacation
Planning your trip to Disney World: What and what not to pack
After months of planning, it is finally time for your trip to Disney World. As the days go by, there's a question that might bug you every now and then, especially if you're a first-timer: "What should I bring to Disney World?"
If that's the case, then you've come to the right place. This post was made with the intention of helping you to pack for your Disney trip. Believe us, we know the struggle. It gets even harder if you have kids!
Disney World is magical, and we believe that most of its magic comes from Orlando's sun. Florida is a very hot state, so you'll want to feel as fresh as possible while walking. However, at Disney, there are lots of places with A.C (air conditioner), which will either put an end to your struggle with heat or maybe will make you start freezing.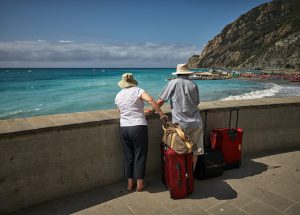 Okay, so, let's have things sorted out a bit. In fact, you can choose a good and comfy outfit, while at the same time you can save some money while trying to pack. First-timers usually lose time (and space in their suitcases) choosing and packing unnecessary items, but that's why we're here! We'll put an end to the nightmare that can be packing for your Disney World trip.
For a place like this, what kind of stuff is necessary?
By the time you finish reading this post, you'll have a better idea of what your suitcases should be filled with for the trip to Disney World. For this trip, you want your suitcases to be as light as possible, and there are some essential things that must be in your backpack when you finally get the chance to go out.
That's enough introductions! Let's get to know what the essential things that you must consider bringing into Disney World are.
Essential stuff that you must pack for your trip to Disney World
One thing you want to avoid at all costs is back pain, so your backpack should be filled only with things that you consider necessary. Things like refillable water bottles, baby or makeup wipes are the highlight of this list, but there's more to it. Stay tuned, because this is some essential stuff that you must pack for your trip to Disney World:
Phone External Battery Charger
While phones these days have batteries that can last all day long, let's think of the worst scenario: you're already out and forgot to completely charge your phone. Your kids look as cute as ever, and when you try to take the photo, it suddenly shuts down. Oh no!
This problem can be easily avoided by bringing a phone external battery charger. The lighter it is the better! These external batteries can come in handy in many situations; it doesn't matter if it's a casual gathering or an important meeting. We definitely want to put it in our suitcases!
Refillable Water Bottles
Staying hydrated is important, so make sure you bring enough water bottles for everyone. Most restaurants and food establishments around Disney World will give you water for free, so bringing refillable water bottles is not a bad idea.
Remember that during this trip, Orlando's magical sun will be your worst enemy.
Keep in mind that glass isn't permitted in Disney parks.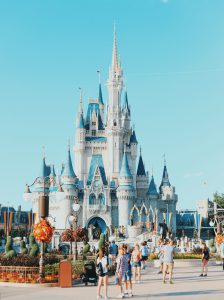 Ponchos
The sun is very powerful in Florida, and so is the rain. The raining season begins in May and ends in October. If you have scheduled your trip somewhere between these months, then you don't only have to face yourself against the sun, but also against the rain.
If there are some dark clouds that threaten to rain on your parade (or you are suspicious that some may appear while you're on your way), bringing some ponchos might be a good idea.
Sunglasses
Sunglasses are very important. The sun gets stronger the more you walk, so it's better to protect ourselves the most we can! Disney has lots of stores everywhere, but most of the stuff you'll find there are expensive. Bringing an extra pair is not a bad idea, either.
Sunscreen
Magic is powerful, and so is the sun. One of the things you definitely don't want to deal with during your trip to Disney is sunburns, so sunscreen is definitely necessary. These products have a very negative effect on the environment. While looking for one, we encourage you to choose one that is eco-friendly. Aerosol can be a waste of money since most of it ends up in the air. Lotions are better, although some people don't like how it feels in their skin.
If this is your case, make sure you wear clothes that cover your most of your body while at the same time is fresh for Orlando's magical heat (later in this guide, we will tell you about how to plan your outfit for this trip) so you don't have to use too much on your face/body.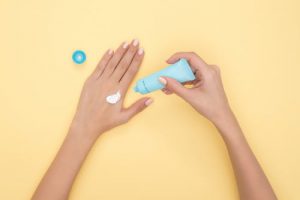 Umbrellas
Taking some light umbrellas isn't a bad idea, actually. Since the sun in Orlando can be exhausting, an umbrella might bring you ease, especially if your outfit isn't very heat-friendly. Does the sun think that he can win this battle if you're already armed with sunscreen, sunglasses, a proper outfit, and now, an umbrella?! Well, he's very wrong!
Snacks
Snacks are great, and if you buy them outside Disney, you can save some money as well. After this trip, you'll appreciate the importance of a mess-free snack. Pick the ones you like the most, and make sure there is enough for everyone.
Makeup or Baby Wipes
Okay, the snacks didn't prevent a mess from happening, but let's avoid getting stressed. Because of this (and any other issue that you might end up having), makeup or baby wipes are necessary for your Disney World trip. Either one is a good option since they practically have the same function.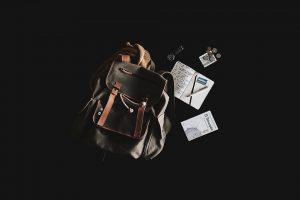 All of the stuff listed above is necessary in your backpack and is more than enough for a day in Disney World. However, if there are some things that you know you'll need during your adventure, you should totally bring them, but try to keep the backpack as light as possible.
Now, we have talked about the essential stuff that you must have on your trip to Disney World, but what about your outfit? Picking it can be a nightmare as well! There's no need to worry, you have us to give you the best advice. Stay tuned, and learn how to plan your outfit for your Disney World trip.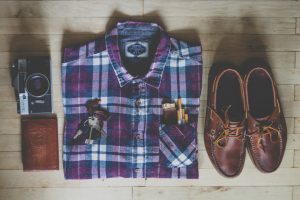 Planning your outfit for the Disney World trip
Now you know how to make things a bit lighter for your back, so let's begin to plan the outfit for your trip. As we've said in the beginning, planning the outfits can be a bit of a nightmare, especially if you're a parent; however, we'll make things easier for you. Let's get to know what to wear during your Disney World trip!
When planning your Disney outfit, keep in mind that you'll deal with Florida's strong heat and that you'll also be walking for a very long time. So, to make things easier, think of your Disney World outfit as if you were getting dressed for the gym. Disney doesn't sound very fun if you're dressed like you're going to work out, especially for the kids, but if you want to avoid feeling all hot and sweaty, it is a good option.
You can pick a cute outfit, and stay fresh at the same time. We know that some like to dress as their favorite Disney character, but you'll likely want to avoid Orlando's horrible heat. Be creative! You can modify the outfits so you and your kids can feel comfortable, and look good.
Some of the best stuff you can use in Orlando is shorts with pockets, skirts, dresses, and T-shirts. Make sure some extra shirts are in your backpack because you'll most likely need one.
Okay, now let's talk about something VERY IMPORTANT: the shoes you'll be wearing! Throughout the article, we have said repeatedly that you'll most definitely be walking long distances, and during times like these, it is very easy for your feet to get hurt.
Just as if you were going to work out, wear the most comfortable shoes you can find in your closet. If they don't fit with your outfit, try to rearrange it until you end up with something that works for you. One thing you don't want is to get your feet injured, so take precautions, and try to wear shoes (and clothes in general) that look cute and let you survive Orlando's magical heat!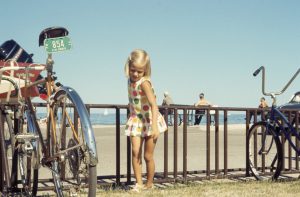 Now, last, but not least, let's see what you should definitely put away from your suitcases while preparing them for your trip.
What not to bring to your trip to Disney World
Now, we have reached the bottom line, which means that the unnecessary stuff will be named in this list. You'll be walking long distances, so you'll want to feel as light and fresh as possible. There are some posts out there who recommend bringing pretty useless stuff, but no worries, this is not the case. We're now going to tell you what you definitely should NOT bring to your Disney World trip.
We have mentioned a lot of times Florida's heat, but it's just that it is one of the most memorable things of a trip to Disney World. Let's suppose that, for whatever reason, your shirt gets wet. If the situation was different, you'd need a towel to get yourself dry, but the truth is that you'll welcome anything that makes your fight against Orlando's terrible weather easier. This means that towels aren't really needed, and for anything else, you already have the makeup/baby wipes to do the job. The extra shirts also take the spotlight in case the wipes aren't enough.
Camera gear isn't needed at all unless you're a professional photographer. You will either bring your own camera or use your phone to take photos, and you also have the option of asking a PhotoPass Photographer (you can find them all around the park) to take the photos for you. The best part of this is that they do it for free!
Other things you definitely won't need are:
Bug repellants (Disney offers them for free at all parks)
First aid basics (Just as the bug repellants, they're available for free in all the parks). In case of assistance is needed, you can ask a staff member to bring you to the nearest First Aid center.
We have already told you this, but you should avoid heavy stuff at all costs during your trip to Disney World.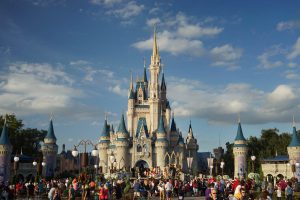 Conclusion
If you are already reading this, then you know what your suitcases should be filled with while planning the trip to Disney World. Florida is one of the hottest states of the USA, and starting from May until October, the probabilities of it raining are very high. If your vacation is scheduled somewhere during these months, it's better if you pack some protection against both the rain and the sun. Weather is uncertain, though, anything could happen!
Remember to keep things light, and when you start walking down the parks, only bring stuff that you consider necessary. You don't want to remember this trip as that one where you got sunburns, or that one where your feet got so hurt that you had to sit and see how your family enjoyed the trip, while you were being carried around in a wheelchair (although we can think of more than just one way to enjoy of Disney World while using one).
Do you have more stuff in mind that we should consider bringing to Disney World? Let us know!
Traffic around Disney can last a really long time so make sure you're staying at a nearby place! Many families recommend booking a place with Sweet Home Vacation. We've got over 2000+ homes available, and they're all within 20 minutes of driving time to Disney!